Group Leaders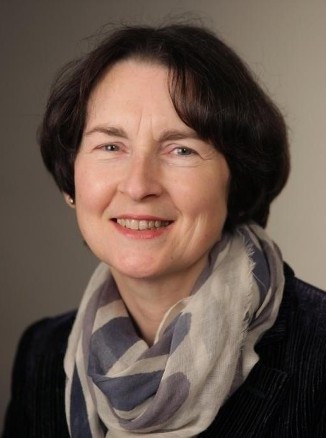 Professor Robyn O'Hehir
FAHMS, FRACP, PhD, FRCP, FRCPath, FThorSoc
Email:
robyn.ohehir@monash.edu
Email: r.ohehir@alfred.org.au
Phone: (03) 9076 2251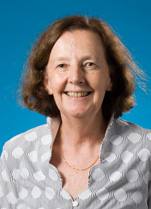 Emeritus Professor Jennifer Rolland
BSc, PhD
Email:
jennifer.rolland@monash.edu
Phone: (03) 9903 0480
Research Fellows
Dr Sara Prickett

Dr Jade Jaffar
Dr Jodie Abramovitch
Research Officers
Ms Neeru Varese
Ms Tracy Phan
Research Nurses
Ms Lorraine Baxter
Ms Kirsten Deckert
Ms Anita Hazard
Ms Karen Symons
PhD students
Ms Astrid Voskamp
Clinical Research Fellow/Specialists
A/Prof Mark Hew
Dr Andrew Gillman
Dr Alessandra Sandrini
Dr Celia Zubrinich
Dr Robert Puy
Dr Julian Bosco
Dr Naghmeh Radhakrishna
Contact
Department of Immunology, and
Department of Allergy, Immunology and Respiratory Medicine
,
Central Clinical School, Monash University
Alfred Medical Research and Education Precinct (AMREP)
Melbourne 3004 Victoria
AUSTRALIA
Allergy Research Group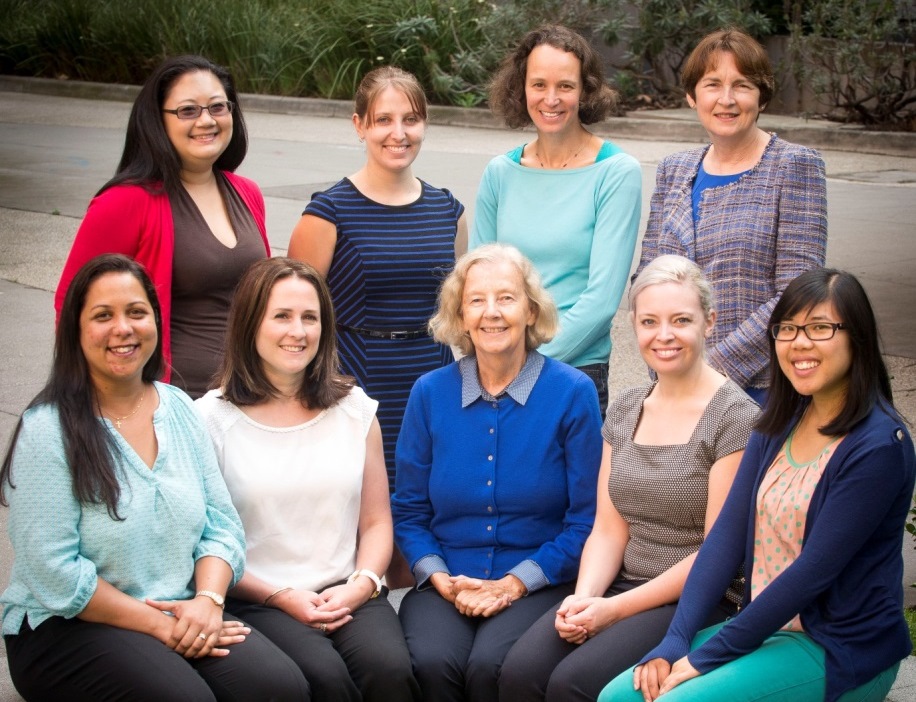 Left to Right - Back row: Dr Jade Jaffar, Ms Jodie Abramovitch, Dr Sara Prickett, Professor Robyn O'Hehir
Front row: Ms Neeru Varese, Ms Kirsten Deckert, E/Professor Jennifer Rolland, Ms Anita Hazard, Ms Tracy Phan
Selected Research Interests and Projects
Towards Phase I/IIa clinical trials of a novel T cell epitope-based peptide therapy for peanut allergy
Sara Prickett, Tracy Phan, Kirsten Deckert, Jennifer Rolland, Robyn O'Hehir
Peanut allergy is a life-threatening condition for many affected individuals world-wide. There is currently no cure. While whole allergen extracts are routinely used in specific immunotherapy for many respiratory and insect venom allergies, they can cause severe side effects and even fatalities in the case of peanut allergy. Early phase clinical trials, including research data previously generated and patented by our Allergy Laboratory, demonstrate that short, T cell epitope-based peptides that target allergen-specific CD4+ T cells without triggering adverse IgE-mediated reactions are effective for allergen-specific immunotherapy for cat, house dust mite and grass pollen allergies. We are developing a T cell-targeted peptide immunotherapy as a safe treatment for peanut allergy. With support from the Medical Research Commercialisation Fund, the NHMRC and the Ilhan Food Allergy Foundation we have identified the optimal candidate peptides from the major peanut allergens Ara h 1 and Ara h 2. We are now finalising mandatory peptide stability and toxicology studies before first-in-man clinical testing.
Allergy researchers helping the Chinese community breathe easier
Neeru Varese, Kirsten Deckert, Naghmeh Radhakrishna, Mark Hew, Celia Zubrinich, Jennifer Rolland, Robyn O'Hehir
The Chinese community in Melbourne are disproportionately affected by grass pollen hay fever. The Num Pon Soon Charitable Trust provided funding for a research study on hay fever treatments and the results could change the way we all breathe. In supporting this research led by internationally recognised Professor Robyn O'Hehir, The Trust has made a significant contribution to the Chinese, and the broader community in addressing this significant problem with a substantial socioeconomic burden.
According to the World Health Organization (WHO), approximately 25% of the world's population currently suffer from allergic respiratory conditions such as hay fever. Most of us will know a sufferer, or even suffer ourselves from hay fever, particularly in south-eastern Australia, where we have large areas of grasslands and northerly spring winds. Alfred/Monash-led research is evaluating the impact of an oral tablet that dissolves in the mouth before swallowing, as an alternative to "allergy shots". The trial is reaching the final immunological and clinical evaluation stage. This study could pave the way to relief for the large number of Chinese people who develop grass pollen hay fever in Australia.
Goat's cheese anaphylaxis following cutaneous sensitization by moisturizer containing goat's milk
Astrid Voskamp, Sara Prickett, Tracy Phan, Celia Zubrinich, Jodie Abramovitch, Jennifer Rolland, Robyn O'Hehir
Current treatments for eczema include topical corticosteroids and moisturizers. Many creams are advertised as "natural" products, but may contain potential food allergens such as goat's milk, cow's milk, coconut milk or oil, oats and nut oils. Application of these moisturizers (containing food allergens) to damaged skin can cause food allergen sensitization, leading to reactions when the food is subsequently eaten. In a recent article published in The Journal of Allergy and Clinical Immunology: In Practice, we reported a case study of a woman who experienced severe anaphylaxis—requiring several doses of intramuscular adrenaline—immediately after eating a salad containing goat's cheese, a food she had consumed without problem in the past. Questioning revealed use of a skin moisturizer containing goat's milk, which she ceased after experiencing increasing skin redness and itch. Laboratory testing revealed high levels of IgE to goat's milk. Additionally, serum IgE binding tests identified IgE binding to the actual moisturizer, which was completely blocked by goat's milk, indicating that the IgE was binding to goat's milk protein within the moisturizer. Furthermore, another test of her white blood cells in the laboratory, the basophil activation test (representing histamine release from cells involved in the allergic reaction), showed basophil activation by goat's milk and also by the moisturizer. Combined, the clinical history and laboratory data support the sensitization route as the eczematous skin application of the allergen in the moisturizer, with subsequent anaphylaxis when the allergen was eaten in food. This route of sensitization has been hypothesized for wheat, oat, peanut and goat's milk allergy, due to sensitization from products such as soaps and oils used to alleviate eczema. This study provides the first confirmatory link of the immunological response of a patient to a food allergen in a skin product, with subsequent anaphylaxis. The authors remind clinicians and patients that skin care ought to be bland, avoiding agents capable of sensitization, especially food allergens.
The identification and characterisation of the major allergens in Australian crustacean species
Jodie Abramovitch, Neeru Varese, Sara Prickett, Robyn O'Hehir, Jennifer Rolland in collaboration with Andreas Lopata and Sandip Kamath, John Curtin University, Queensland
The increase in prevalence and potential fatality of food allergy has led to increased efforts to find more specific diagnostic assays as well as effective therapies and prophylactic measures. More than 90 percent of allergic reactions can be attributed to exposure to foods, including fish and shellfish. The shellfish group includes crustaceans (prawns, lobsters, crabs) and molluscs (oysters, mussels, abalone). Very few shellfish allergens have been characterised on a molecular level. In this project, we are performing a detailed characterisation of the shared and unique allergens of different shellfish to accurately predict clinically significant cross-allergy among the different groups. The effects of food processing (eg heating and digestion) on allergenicity of shellfish proteins is also being determined. This research will inform the development of a microarray diagnostic for shellfish allergy leading to improved diagnosis and management of these patients.
Selected Recent Publications:
Books
Borg BM, Thompson BR, O'Hehir RE. (2014) Interpreting Lung Function Test: A Step-by-Step Guide. 1st Edition. Wiley Blackwell (on line 12 July 2014) ISBN 9781118405512
Adkinson F, Bochner B, Burks W, Busse W, Holgate S, Lemanske R, O'Hehir RE (Eds)(2014) Middleton's Allergy: Principles and Practice 8th edition. Elsevier.ISBN 9780323085939
Peer reviewed journal publications
Prickett SR, Rolland JM, O'Hehir RE. (2015) Immunoregulatory T cell epitope peptides: the new frontier in allergy therapy. Clin Exp Allergy 45(6):1015-26
Hardy CL, King SJ, Mifsud NA, Hedger MP, Phillips DJ, Mackay F, de Kretser DM, Wilson JW, Rolland JM, O'Hehir RE. (2015) The activin A antagonist follistatin inhibits cystic fibrosis lung inflammation and pathology. Immunol Cell Biol doi: 10.1038/icb.2015.7. [Epub ahead of print] (Open Access)
Koeberl M, Kamath S, Saptarshi S, Smout M, Rolland JM, O'Hehir RE, Lopata A. (2014) Auto-induction for high yield expression of recombinant novel isoallergen tropomyosin from King prawn (Melicertus latisulcatus) for improved diagnostics and immunotherapeutics. J Immunol Methods 415:6–16.
Voskamp A, Zubrinich CM, Abramovitch JB, Rolland JM, O'Hehir RE. (2014) Goat's cheese anaphylaxis following cutaneous sensitization by moisturiser containing goat's milk. J Allergy Clin Immunol: In Practice 2(5):629-30.
Sharp MF, Kamath S, Koeberl M, Jerry DR, O'Hehir RE, Campbell DE, Lopata AL. (2014) Differential IgE binding to isoallergens from Asian Seabass (Lates calcarifer) in children and adults. Mol Immunol 62(1):77-85.
Kamath S, Rahman AM, Voskamp A, Komoda T, Rolland JM, O'Hehir RE, Lopata A. (2014) Effect of heat processing on antibody reactivity to allergen variants and fragments of black tiger prawn: A comprehensive allergenomic approach. Mol Nutr Food Res 58(5):1144-55.
Voskamp A, Prickett S, Mackay F, Rolland JM, O'Hehir RE. (2013) MHC class II expression in human basophils: induction and functional significance. PLoS-One 8(12):e81777 (Open Access)
Hardy CL, Nguyen HA, Mohamud R, Yao J, Oh DY, Plebanski M, Loveland KL, Harrison CA, Rolland JM, O'Hehir RE. (2013) The activin A antagonist follistatin inhibits asthmatic airway remodeling. Thorax 68(1):9-18.
Abramovitch J, Kamath S, Varese N, Zubrinich C, Lopata A, O'Hehir RE, Rolland JM. (2013) IgE reactivity of blue swimmer crab (Portunus pelagicus) tropomyosin, Por p 1, and other allergens; cross-reactivity with black tiger prawn and effects of heating. PLoS-One 8(6):e67487. (Open Access)
Prickett S, Voskamp A, Phan T, Dacumos-Hill A, Mannering S, Rolland JM, O'Hehir RE. (2013) Ara h 1 CD4+ T-cell epitope-based peptides: candidates for a peanut allergy therapeutic. Clin Exp Allergy 43(6):684-97. (Open Access)
Mittag D, Varese N, Scholzen A, Mansell A, Barker G, Rice G, Rolland JM, O'Hehir RE. (2013) TLR ligands of ryegrass pollen microbial contaminants enhance both Th1 and Th2 inflammatory responses and decrease induction of regulatory T cells. Eur J Immunol 43(3):723-33.
Hardy CL, Hong-An Nguyen, Rohimah Mohamud, John Yao, Ding Yuan Oh, Magdalena Plebanski, Kate L Loveland, Craig A. Harrison, Jennifer M. Rolland, O'Hehir RE. (2012) The activin A antagonist follistatin inhibits asthmatic airway remodeling. Thorax 68(1):9-18.
Etto T, de Boer C, Prickett SR, Gardner LM, Voskamp A, Davies JM, O'Hehir RE, Rolland JM. (2012) Unique and cross reactive T cell epitopes for peptide immunotherapy of a major Bahia grass pollen allergen, Pas n 1. Int Arch Allergy Immunol 159:355-366.
Prickett SR, Voskamp AL, Dacumos A, Symons K, Rolland JM, O'Hehir RE. (2011) Ara h 2 peptides comprising dominant CD4+ T-cell epitopes: candidates for a peanut allergy therapeutic. J Allergy Clin Immunol 127(3):608-615.