The Department of General Practice at Monash University: Opportunities for academic registrars
What is an academic post?
An academic registrar post is a salaried, part-time research placement at a university that occurs in conjunction with clinical practice. These placements are for 12 months and are supported by GPET staff, a university research supervisor and a RTP clinical supervisor. GPET runs an annual online conference for anyone who is interested in an academic post. www.researchweek.com.au
Next Application Dates
There are two rounds of applications per year:

• Round one opens in February
• Round two opens in August

Check the AGPT website for specific dates

Application forms and further information can be located here.
Background Information
Monash University is one of Australia's largest and most internationally engaged universities with campuses in Malaysia, Italy and South Africa, in addition to the six Victorian campuses. Undertaking an academic registrar position in the Department of General Practice gives a registrar the opportunity to work with leading researchers in a range of areas, as well as gaining valuable teaching skills in one of the few remaining undergraduate medical courses in Australia.
Opportunities at Monash
- Unique opportunities for academic registrars at Monash
- Specific research projects available for academic registrars
- Practicalities of the Post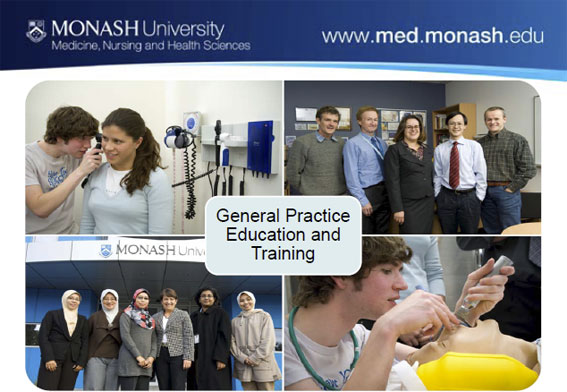 The Department of General Practice (DGP) http://www.med.monash.edu.au/general-practice/ was established in 1975 and is one of the largest general practice teaching departments in Australia with over 30 full-time equivalent academic, research and professional staff. It was incorporated into the newly formed School of Primary Health Care within the faculty in 2001. The DGP has a proud tradition of nurturing academic registrars and developing their skills and experience in general practice education and research. Our academic registrars have the opportunity to become engaged across the breadth of program areas within the DGP, to join the active group of early career researchers that exists within the DGP and to participate in the many professional development opportunities available both within the DGP and more broadly in the School of Primary Health Care and the University.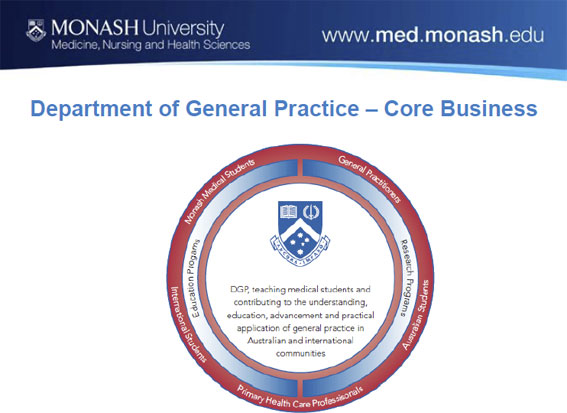 Unique opportunities for academic registrars at Monash
Undertaking a Graduate Diploma or Masters in Family Medicine
This course is intended for general practitioners wishing to expand their knowledge and skills in areas relevant to general practice. Students will gain critical appraisal skills in reference to the nature of the discipline, its daily practice, and its literature and research base to meet their own personal and professional needs, as well as the needs of the patients and the community in which they practice. The course also aims to enlarge the pool of potential general practice teachers and researchers to enhance the quality and status of general practice among professionals and in the wider community. Students are required to complete the two compulsory core units that cover principles of general practice and introduction to research methods as well as a selection of clinical electives offered by the Department of General Practice. Opportunities may exist to upgrade to a Masters Degree. Further information is available at http://www.med.monash.edu.au/general-practice/teaching/pgrad-courses.html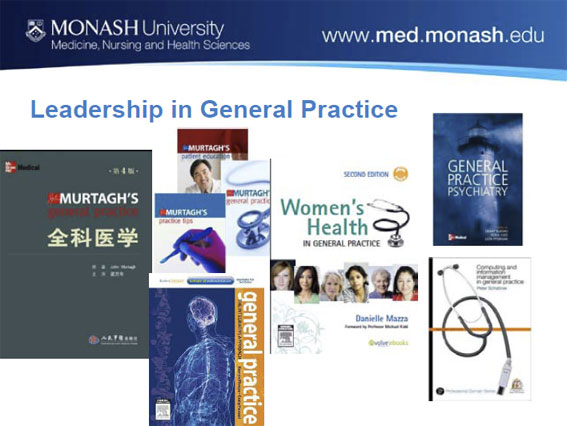 International partnerships and opportunities for exchange
The DGP has a formal partnership with the Department of Family Medicine at Queen's University in Ontario, Canada http://www.dfmqueens.ca/welcome/overview.php. This alliance is developing collaborative work in the areas of postgraduate and undergraduate medical training, human resources and recruitment, primary health care research, and health policy. Exchanges of postgraduate trainees and faculty are underway and a variety of projects are proceeding forward. There are real opportunities for academic registrars to visit the Department of Family Medicine at Queen's University for periods of time to extend their outlook and learn more about family medicine in an international context.
Opportunities for involvement in general practice training for Chinese doctors
Monash's DGP is actively engaged in a program of work to assist in the training of Chinese general practitioners. Registrars will have the opportunity to become involved in the four week program that Monash runs for cohorts of Chinese doctors twice a year as well as to become involved in program delivery when run in China.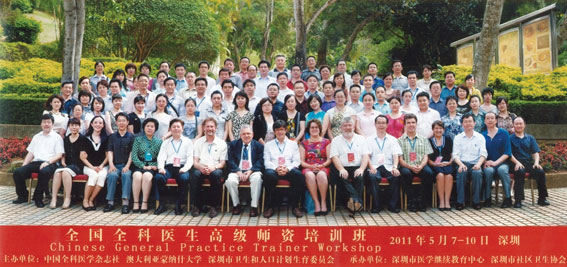 Availability of a $10,000 Scholarship
The DGP at Monash University invites applications for two, $10,000 Academic Registrar Scholarships each year. These scholarships are available to all registrars undertaking an academic registrar post through a written application process. The scholarship may be used at the discretion of the registrar (to support research, conference or professional development costs or to top up salary) and can be held concurrently with other scholarships that are available through AGPT, such as those from the GPET Registrar Research Fund. Each Monash AUD$10,000 scholarship can only be applied for once during a single academic post.
Specific Research Projects Available for Academic Registrars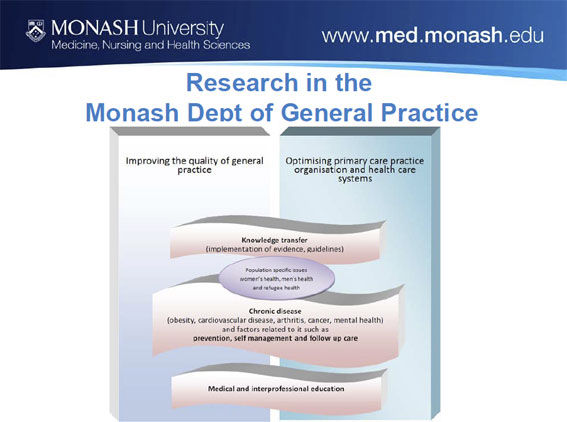 The DGP has active programs of research being undertaken in several areas from which academic registrars can choose a component to become involved. These include:
Women's Health
The role of general practitioners in preventing unplanned pregnancy
Knowledge, attitudes and practice of GPs in relation to menstrual problems
Current contraceptive prescribing by GPs
HPV vaccination: where to now?
Fertility awareness: Can GPs assist women with subfertility?
The development and testing of an online risk assessment tool "PRECONCEPT" aimed at encouraging women to undertake preconception care
Improving GPs administration of the HPV vaccine to women aged over 26 years.
An examination of the characteristics of providers who have administered and reported HPV vaccination to the National HPV register.
Identification of unmet needs and enhancing the physical and emotional health of survivors of early (operable) breast cancer
Implementation of beyond blue perinatal guidelines in the general practice setting
Models of care for survivors of sexual abuse
Analysis of the Australian longitudinal women's health study data on sexual abuse history and health outcomes
Knowledge Translation
Developing a guide for the early detection of lung cancer
Follow up of breast cancer: putting guidelines into practice
Implementing national antenatal guidelines in general practice
Implementation of the pregnancy lifescripts in general practice
Evaluating elements of implementation of the RACGPs "Redbook" of preventive care guidelines
Development of an implementation taxonomy to assist researchers in knowledge translation
An analysis of the database of Clinical Practice Guidelines recently compiled by the National Institute of Clinical Studies, to evaluate characteristics of GP guidelines and preventive guidelines to ascertain what helps implementation
An exploration of endorsement as a method to enhance guideline implementation
Preventive Care
The touch screen project – a novel way to assess health risks in general practice
Exploring the relationship between health literacy and delivery and uptake of prevention
Patient based interventions to improve preventive care (PREPARE)
Improving delivery and uptake of preventive care for children
A large randomised controlled trial to improve prevention of cardiovascular disease in general practice (PEP)
Chronic Disease Management
IT solutions to chronic disease management - the CDMNet and CCA projects Medical Education
Exploring opportunities for GP education through locum services
The registrar as teacher
Opportunities for interprofessional education
Practicalities of the Post
The post will be based at the Notting Hill campus of Monash University in the DGP and may be conducted full time over 26 weeks or part time over a 52 week period.
Support during the Post
Academic registrars will be provided with a full orientation to the DGP and the University on commencement. Supervision will be provided throughout the post and registrars will also attend the weekly DGP staff meeting and academic seminar. The Department, Faculty and University have available a wide range of professional development opportunities for the registrar to engage in and a specific program pertaining to the development of research and teaching skills will be formulated in conjunction with the registrar's supervisor.
Tasks and day-to-day activities
The academic registrar will be directly involved in research related to the project they are attached to and will be given a specific component of the research to undertake. This may involve the use of qualitative research methods such as undertaking interviews or focus group research, secondary database analysis or systematic review. In addition to the research project, the registrar will become involved in teaching medical students clinical skills. The student will be supported in doing this learning first through observation and later teaching under supervision.
Benefits of the Post
The post is an excellent introduction to the life of "academic general practice". Registrars get an opportunity to become part of a research team, work towards a publication or two and to learn about general practice research and education in a friendly supportive environment. You will enjoy a varied week of research, teaching, clinical practice and professional development and we hope complete the post enthused and hungry for more, with new perspectives about general practice and a desire to continue on an academic career path.
For further information please contact:
Professor Danielle Mazza
Head of Department of General Practice
Monash University
Telephone: 03 99024496
Email: Danielle.mazza@monash.edu