The Health Services Research Unit is interested in the organisation and delivery of health services and systems. We work to generate new knowledge to promote effectiveness, efficiency, equity and quality in health services, and to transfer this knowledge into improved policy and clinical practice. We undertake multi-disciplinary research in collaboration with researchers within and beyond the School of Public Health and Preventive Medicine.
Staff
A/Prof Anna Barker - Head of Unit
Ms Renata Morello
Dr Geeske Peeters
Dr Darshini Ayton
Dr Sze-Ee Soh
Mr Jason Talevski
Ms Penny O'Brien
Visiting Overseas Fellow
Dr Indeewarie Gunaratna
PhD Candidates
Ms Renata Morello
Ms Rebecca Morris
Ms Oyun Chimeddamba

Honours Students
Ms Danielle Berkovic
Mr Mutian Zhang

Research
- FALLS AND BONE HEALTH -

6-PACK Cluster RCT: The 6-PACK program to decrease falls and fall-related injuries in acute hospitals
Funded by the NHMRC, this cluster randomised controlled trial aims to test the 6-PACK falls prevention program – a targeted, nurse-delivered, falls prevention program – in acute hospital wards. It consists of a nurse assessment of a patient's risk using a nine-item risk assessment tool, and the delivery of one or more of the six 6-PACK interventions applied to patients classified as high falls risk.
For more information about the 6-PACK falls prevention project, download the 6-PACK brochure and the 6-PACK snapshot report.
RESPOND Project: Secondary falls prevention in older people presenting to the emergency department with a fall: a multi-centre randomised controlled trial of efficacy, cost-effectiveness and acceptability of the RESPOND program
Funded by the NHMRC, this multi-centre randomised controlled trial aims to test the RESPOND program – an innovative post-ED discharge program designed to reduce secondary falls in older people. The aim of the RESPOND program is to connect patients with proven falls-prevention strategies and improve patient's knowledge and ability to navigate the complex healthcare system by incorporating patient-centred education with behaviour change strategies.
For more information about the RESPOND Project, please call Dr Darshini Ayton on 03 9903 0402.
ASPREE-Fracture sub-study: Does daily low-dose aspirin reduce fracture risk in healthy older adults?
ASPREE is a NIH/NHMRC funded US/Australian double-blind, randomised, placebo-controlled primary prevention trial designed to assess whether daily active treatment using low-dose aspirin extends the duration of disability-free and dementia-free life in 19,000 people aged ≥70 years. In 2013, additional NHMRC funding was received to undertake a sub-study to extend the ASPREE trial data collection to investigate the effect of aspirin on fracture risk and the underlying mechanisms of any risk reduction observed.
For more information about the ASPREE-Fracture sub study, please call Jason Talevski on 03 9903 0377.
Waves Evaluation: An evaluation of the Arthritis and Osteoporosis Victoria Warm Water Exercise Program
Funded by Arthritis and Osteoporosis Victoria, this observational evaluation of the Arthritis and Osteoporosis Victoria Warm Water Exercise Program (Waves) aims to identify the impact of the Waves program on key self-reported measures of pain, function, stiffness and quality of life in people with musculoskeletal conditions.
Pilates: Fitness fad or next frontier in falls prevention and bone health?
Funded by Monash University, this pilot randomised controlled trial aims to determine the impact of a physiotherapist delivered Pilates program on falls and standing balance in older at high risk of suffering a fall-related injury. This study also aims to explore the feasibility of identifying older people at risk of suffering a fall injury and assess the acceptability of the Pilates exercise program.
Medibank project: Improving the measurement of patient reported outcomes
Funded by a research grant from Medibank Private, the aim of this project is to develop approaches to collect patient reported outcomes and integrate them with other clinical outcomes to provide comprehensive measures of excellence in care delivery. Implementation of patient reported outcomes in clinical quality registries has great potential to improve quality of care and clinical effectiveness through benchmarking and informing patients, clinicians, policy makers and funders.
For more information about the Medibank Project, please call Dr Geeske Peeters on 03 9903 0213.
Personal Alert Victoria (PAV) project: Understanding and reducing falls and fall-related harm among PAV clients
Funded by the Victorian Department of Health and Human Services this project will provide information to inform in the targeting and tailoring of falls prevention interventions for PAV clients within existing service models.
- HEALTH SERVICE USE AND PROVISION -

Funded by Alfred Research Trusts, SEED is prospectively mapping the care journeys and health outcomes of older patients following discharge home from The Alfred Hospital ED, with the overarching aim of developing a tailored evidence-based care framework for older emergency patients.
EEDRa (Elderly ED Re-attendance) Project
Funded by a Faculty Strategic Grant, this project is examining the factors associated with repeat ED attendances.
REDIRECT (Reducing older patients' avoidable presentations for emergency care treatment)
Funded by the Australian Primary Care Research Institute, this project aims to identify appropriate strategies to reduce avoidable ED presentations by older patients by redirecting them to community health services.
Teaching
We host students undertaking Honours and undergraduate research placements.

Translation into policy and practice
Translation activities in the unit include knowledge exchange activities with clinicians and policy makers. Examples of such activities include producing Policy Briefs that summarise research findings for policy-maker audiences, running seminars and workshops to update clinicians on the latest evidence-informed practice, and participating in national advisory committees.
Seminars
Be your Best: Promoting Health and Preventing Falls in Older Adults
September 2016
The Falls and Bone Health Team successfully hosted the 'Be Your Best: Promoting Health and Preventing Falls in Older Adults' seminar on Monday September 26th 2016. Academic experts from prestigious Australian academic institutions provided delegates with new knowledge and skills about the challenges and solutions to successful ageing and falls prevention. The 10 speakers covered a range of topics including: the problem of falls amongst older Australians; engaging older adults in falls prevention activities; barriers and enablers to falls prevention; and promoting health in the ageing brain. Each session was followed by a panel discussion where delegates and speakers were able to discuss challenges and practice opportunities in more detail.
The attendees represented a range of disciplines including allied health, acute care, research and policy. The feedback regarding seminar content and speakers was very positive.
"Thank you for an awesome day!"
"Lots of good information that I can easily relate back to our falls prevention program and lots of food for thought for future projects. Thank you."
The Falls and Bone Health Team would like to give a special thank you to all who were involved in this seminar, including four interstate guest speakers: A/Prof Anne-Marie Hill; Prof Keith Hill; Prof Leon Flicker; and A/Prof Glenn Arendts. This event was sponsored by The Victorian Department of Health Human Services.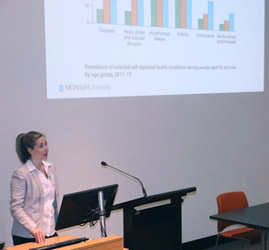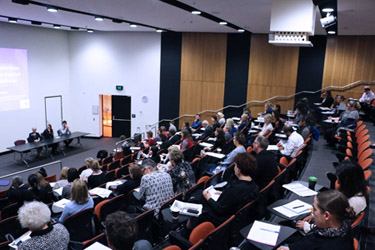 PRESENTATIONS:
Anna Barker - Falls prevention for people presenting to an ED with a fall
Anne-Marie Hill - Barriers and enablers to older adults engaging in strength training
Ben Beck - Incidence of severe traumatic brain injury falls are on the rise
Glenn Arendts - Reduction in ED presentations for older people with dementia
Keith Hill - Will falls prevention need to change as the ageing population changes?
Leon Flicker - What is successful ageing and how do we achieve it?
Rebecca Morris - Key ingredients for successful falls prevention programs
Sze-Ee Soh & Darshini Ayton - Who is falling and what are their thoughts on falls prevention?
Terry Haines - Physical activity and falls in older adults after hospitalisation
Optimising exercise programs for older people to improve balance and prevent falls
July 2016
Engaging and sustaining older people's participation in falls prevention exercise programs is a continual challenge for health and fitness professionals. Researchers and clinicians from the Department of Epidemiology and Preventive Medicine at Monash University have developed a research seminar to provide fitness professionals, clinicians, health promotion practitioners and academics with practical tools and information on effective falls prevention exercise programs and public health messages.
Pilates exercise to improve balance and reduce falls in older people: A research update
December 2015
The Falls and Bone Health team successfully hosted a research update and Q&A session on December 9th 2015 on the effects of Pilates exercise on balance and falls in older people. This was a free event designed to provide delegates with new insights into the potential benefits of Pilates exercise. The latest research published by the Falls and Bone Health team on Pilates exercise was presented, which included a systematic review and a pilot randomised controlled trial. The event attracted 50 delegates who were highly satisfied with the quality of this seminar. Over 95% of survey respondents rated the event as good/very good; 95% rated the quality of speakers as good/very good; and 100% reported the knowledge gained from this seminar was applicable to their occupation.
"It was a great session. First Jason sharing the previous research in Pilates and then how Anna was so interactive with the group and focused more on exercises that would help with falls."
"Jason and Anna you guys were fantastic. Learnt heaps. Thank you!"
Optimising exercise programs for older people to improve balance and prevent falls
October and November 2015
This event was an accredited program of Fitness Australia and Physical Activity Australia. The seminar equipped professionals working within the health and fitness industries with practical tools for engaging and sustaining older people's participation in falls prevention programs. The event was repeated after an overwhelming amount of demand for the initial seminar which took place in October 2015. More than 100 delegates attended the event with 94% of survey respondents rating the quality of the speakers as very good/good and 85% rating the overall quality of the event as very good/good.
"The presenters were all experts in their fields and did a fantastic job of condensing the latest evidence into a half day program."
"One of the most engaging and clinically relevant seminars I have attended. Fantastic content and presentation style."