Professor John McNeil, Head of School and Head of Department, speaks about the PhD in Epidemiology.
Press the play button below to start the video
Flash video (4.06min 21 MB)

For more information, see the DEPM Doctoral Information Handbook (1MB, PDF)

Current doctoral thesis topics
Current Phd Opportunities
Why study a PhD?
Why study Epidemiology?
What skills will I develop?
How do I support myself?
How do I choose a project?
What's expected of me?
How to Apply
Contact, further info and enrolment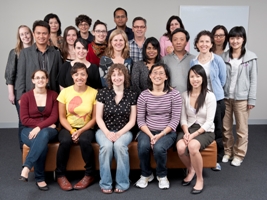 Doctoral group of 2011
Doctor of Philosophy (PhD)
A PhD in epidemiology provides advanced skills in clinical and/or public health research.
DEPM has a strong record of achievement in PhD training with many graduates obtaining prestigious post-doctoral awards and securing senior positions in Australia and overseas.
In 2012, we have around 120 students enrolled.
Registries
Registry science is a new frontier in public health research. DEPM holds many state and national registries. Suitable doctoral students may be given access to registry data to investigate a range of public health, clinical and epidemiological questions within a registry or through data linkage.
DEPM Registries

Clinical Quality
Australian Cardiac Procedures Registry
Australian Cardiac Procedures Registry
Bi-National Burns Registry
Colorectal Cancer Registry
Lung Cancer Registry
Massive Transfusion Registry
Neonatal Alloimmune Thrombocytopenia
Prostate Cancer Registry
Thrombotic Thrombocytopenia Purpura
Venous Thromboembolism Registry
Victoria State Trauma Registry
Victorian Orthopaedic Trauma Outcomes Registry
OTHER REGISTRIES
Australian Society of Cardiothoracic Surgeons Database
Australian Rheumatology Association Database
Bosentan Patient Registry
Haemostasis Registry
Melbourne Interventional Group Cardiology Registry
Reduction of Atherothrombosis for Continued Health Registry
Southern Melbourne Integrated Cancer Service Registry
For more information, see the DEPM Doctral Information Handbook (1MB, PDF)
Current PhD opportunities
The Falls and Bone Health team is offering full-time 3-year PhD scholarships, tenable in 2013, within the Department of Epidemiology & Preventive Medicine, SPH&PM at Monash University. A PhD scholarship opportunity exists to participate in the research activities of the Falls and Bone Health team within the Health Services Research Unit and the Centre for Research Excellence in Patient Safety. Monash School of Public Health & Preventive Medicine is a teaching and research unit of the Faculty of Medicine, Nursing and Health Sciences and is located at the Alfred Hospital Campus. It plays a prominent role in public health medicine in and works closely with the major Monash affiliated hospitals, research institutes and public health units within Victoria.

The Health Services Research Unit is focused on generating new knowledge to improve policy and clinical practice in health services and health systems. The falls and bone health team within the Health Services Research Unit undertake clinical research and health service evaluations that focus on topics of healthy ageing. These include the NHMRC funded 6-PACK cluster randomised controlled trial of a hospital falls prevention program, the NHMRC funded RESPOND randomised controlled trial of a post-discharge service for older people presenting to and ED with a fall, the Pilates falls and bone health pilot randomised controlled trial, and the Safe Emergency Elderly Discharge (SEED) project.
Further information can be found here
Why do a PhD with the Department of Epidemiology and Preventive Medicine?
Progress of PhD students with DEPM is facilitated by a strong research environment with an extensive program of NH&MRC funded research; access to extensive infrastructure support including:
· assistance in biostatistics,
· data management,
· computing and
· support from experienced staff and a large student body.

Why study Epidemiology?
Epidemiology is the key scientific discipline underlying some of the most important and rapidly developing areas of medicine.
These include:
· Public health
· Applied clinical research and clinical trials
· Preventive medicine and health promotion
· Health services research
· Quality assurance and outcome measurement in healthcare
· Health economics
· Health policy development
· Occupational and environmental health
· Health risk assessment

What skills will be developed?
All students undertaking PhD studies within the Department are expected to attend coursework units in Epidemiology and Biostatistics provided as part of the Department postgraduate coursework program. In addition, PhD students are encouraged to participate in conferences and workshops, and to undertake further professional development in relevant fields.
During the course of their research, students will develop skills in the following areas:
· Protocol development.
· Design and conduct of research in humans.
· Computer based data management and statistical analysis.
· Scientific writing and communication.
· Critical appraisal and interpretation of medical literature, and
· High level knowledge of the chosen field of study

How will I support myself?
Full-time PhD students in the Department are supported by PhD scholarships provided by Monash University, the Alfred Hospital, the NHMRC, VicHealth or other bodies. These provide a tax free stipend, to which may be added income from teaching, and other limited employment outside the stipulated hours.
Most individuals undertaking a PhD find it to be a demanding experience requiring extensive after-hours work. University rules do not allow more than six hours per week of outside employment in normal business hours during a PhD candidature, and this restriction is observed by supervisors within DEPM.
Virtually all full-time and most part-time PhD students are given exemption from HECS liability. Further details on HECS exemption can be found in Chapter 6 of the DEPM Doctoral Information Handbook.

How do I choose a PhD project?
A project suitable for a PhD has the following characteristics:
· It is scientifically worthwile
· It can be undertaken successfully with the available resources
· It provides training in appropriate skills
· It can be completed within a 20 month to 30 month time period.
Considerable judgement is needed to identify projects meeting these requirements and most students will need to be advised about appropriate studies, especially in the early stages of their enrolment. Whenever possible, students undertaking PhD studies within DEPM are attached to a major funded study and their work involves "substudies" within the larger project. Before choosing a project, prospective students should review the research activities within the department's units to identify areas of interest.

What is expected from PhD students?
· Contribution to the intellectual life of the department
· Attendance and presentation at relevant professional meetings
· A strong motivation to publish results of studies completed
· An ethical and careful approach to research
· Strict adherence to University restrictions on outside employment and other condictions of candidature.


How to apply
Please do not apply for a scholarship or contact staff members about a project before we invite you to do so. You should first contact the Doctoral Coordinator, Dr Elizabeth Douglas (elizabeth.douglas@monash.edu).
If you do not need a scholarship for tuition (international applicants) or a living allowance (local and international applicants) you may apply for candidature without a scholarship at any time. Applications for scholarships close each year on 31 October for commencing study early the next year (the academic year in Australia runs from March to October). However, from 2010 there will be a mid-year round.
Please visit the following websites: http://www.monash.edu.au/study/research/
If English is not your first language, then please pay attention to the English language requirements. In the Department of Epidemiology and Preventive Medicine, an overall IELTS score of 7.0 with individual band scores of 6.5 is required.
Monash University offers the Monash International Postgraduate Research Scholarship (MIPRS) to international students. However, these are extremely competitive and to obtain one you will need to have an outstanding academic record in at least one degree and preferably a first author publication in an ISI-listed English-language journal. Conference presentations are given little weight if they are not published in conference proceedings an ISI-listed journal. Applications close each year both in the middle of the year (date to be announced) and on 31 October.
Please visit our Department web pages (http://www.med.monash.edu.au/epidemiology/research/) for an indication of the current area/s of research that match your interests. If your interest is in HIV/AIDS, please note there are few opportunities currently. We expect students will pick up a topic that a supervisor here already has planned.
If you think your CV will be competitive and you would like to pursue this further, please send the following:

· CV, including full citation of any publications and referees (noting your relationship to each one);
· transcripts of grades for every degree you hold;
· a measure of your proficiency in English if you have been tested (e.g., IELTS score) and if English is not your first language and you have not studied for a degree in English;
· a brief statement explaining your current work, why you wish to undertake a higher research degree and the areas of research that interest you (maximum 1 page);
· details of your funding, if any.
After reviewing these documents we will let you know if we think your application might be competitive and if so, we will try to identify a suitable supervisor. Only when this is achieved can we invite you to consider applying.

Further Information
If you have any questions regarding a PhD with DEPM please contact the Doctoral Coordinator Dr Elizabeth Douglas on (03) 9903 0168 or by email to elizabeth.douglas@monash.edu

Applications for suitable applicants not requiring a scholarship can be submitted at any time of the year. Applications for scholarships close in May and October each year.
General information on resources and facilities available to postgraduate students at Monash University is provided by the Monash Research Graduate School. This page also has details of Scholarships and Awards, Doctoral Programs, the PhD and Scholarships Committee, and links to Forms and Documents to Download. The Monash University web site contains Admissions information and the Student Information page provides comprehensive links to information and services available to students.
Prospective international students should consult the Monash University Admissions information page to obtain relevant information on studying at Monash.