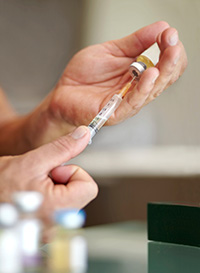 If you are undertaking a Faculty of Medicine, Nursing and Health Sciences course, which requires a clinical/fieldwork placement/s as a mandatory course requirement you must comply with procedures to minimise the risk of cross-infection of communicable diseases during your training.
Compliance with these procedures can take time, so once you have accepted a place in the course, you are required to commence the immunisation process in readiness for clinical placements/fieldwork.
Once your immunisation records are satisfied your immunisations are valid for the duration of your course (except annual influenza vaccine). All documentation is to be taken on placements and produced on request.
Students are encouraged to attend either Monash Infection Assessment Clinic or University Health Services who are the faculty's preferred providers. Monash Infection Assessment Clinic provides an immunisation passport with benefits of a comprehensive immunisation program aimed at the healthcare industry at minimal cost to students. These two services understand the immunisation requirements for students undertaking placements and provide assistance should students need to speak with an immunisation specialist.

Students can attend their own GP, however will need to advise their GP that all immunisation requirements as listed on the forms are required. If immunisation documentation is incomplete or incorrect, student clinical placements could be delayed or cancelled which means that students will be unable to meet the clinical requirements of the course.
Forms:
Form 1 - Immunisation Compliance (pdf 180KB) (updated 15/02/2017)
Form 2 - Immunisation Compliance - Influenza (pdf 269KB)
Additional Information:
Clinical/Fieldwork Placement Handbook
Immunisation Frequently Asked Questions
Immunisation and Infection Risk Policy
Vaccination and Immunisation Guidelines
Immunisation video