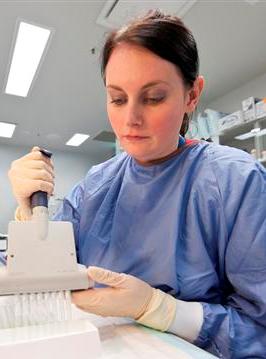 Research in Central Clinical School
The Central Clinical School (CCS) is based at The Alfred Medical Research and Education Precinct (AMREP) and is a centre for clinical and biomedical research and education, offering undergraduate and postgraduate study programs. CCS's co-location with a number of Victoria's premier research institutions and The Alfred hospital enable CCS researchers to undertake collaborative biomedical research in integrated basic, clinical and population based research, and ultimately, facilitate the translation of research into clinical practice.
CCS has scientific and medical expertise in women's health, asthma, allergy and respiratory medicine, cystic fibrosis, lung disease and sleep disorders, infectious diseases, neurosciences and neurotrauma, surgery, anaesthesia, diabetes and endocrinology, clinical pharmacology and the clinical translation of this research.
CCS has extensive collaborations with other research organisations, industry and health providers. In 2013, CCS received $21.3M funding for its research from a variety of sources including government, industry and philanthropic trusts and foundations.
For specific research programs within the Centres and Departments of the School, see links below: