The Undergraduate Medical Education Directorate (UMED)
Associate Professor Rob Selzer
Director, UMED
Adj. Clin. Assoc. Professor Laila Rotstein OAM
Senior Lecturer
Dr Paki Rizakis
Assistant Lecturer
Ms Bernadette Donellon
Coordinator, clinical skills sessions
Ms Liana Moore
Administrative Officer
Ms Jean Martyn
Administrative Assistant
Dr Mark Cicchiello
Clinical Supervisor
The Central Clinical School (CCS) coordinates the teaching of Monash's MBBS students at various teaching hospitals.
About UMED
Associate Professor Rob Selzer leads the Undergraduate Medication Education Directorate with administrative support by Liana Moore and Jean Martyn. Associate Professor Laila Rotstein and Dr Paki Rizakis, along with the clinical supervisor Dr Mark Cicchiello, run the intensive clinical program. Ms Bernadette Donellon coordinates the substantial clinical skills sessions held frequently over the year. Teaching at Cabrini Health is led by Associate Professor Michelle Levinson. The Academic Board of Anesthesia & Perioperative Medicine offers specialized teaching in anesthetic care. The Department of Surgery at the Alfred Hospital has a major role in the teaching of surgery in all years of the Undergraduate Medical Education Programme. Pathology teaching is coordinated by Professor Catriona McLean.
CCS has a structured clinical teaching program for 3rd & 5th MBBS students, administered by the Undergraduate Medical Education Directorate (UMED) at the Alfred Precinct and by Associate Professor Michele Levinson at Cabrini Health. The program extends beyond Patient and Theme Based Learning with timetabled teaching in most specialist medical disciplines offered by the Alfred Health hospital. Emphasis is based on bedside skills as well as theoretical knowledge. An extensive lecture and tutorial program is given by senior clinicians. Access is available to the latest in research and development advances in medicine within a challenging and supportive learning environment.
In Year 3 MBBS students undertake rotations in a range of specialties and campuses. Campuses include the Alfred, Epworth and Sandringham Hospitals. Additionally, students have a structured lecture and tutorial timetable throughout the week. The bulk of pathology teaching occurs in Year 3 within the MBBS curriculum and weekly pathology tutorials are delivered in the AMREP campus with the course coordinated across all campuses by Professor Catriona McLean (see Pathology Board). At the conclusion of Year 3 the Alfred hosts the clinical (OSCE) exam in which students are examined in 10 separate clinical scenarios.
In Year 5 MBBS students can undertake clinical placements at the Alfred, Sandringham and Epworth Hospitals, Caulfield Hospital, Cabrini Health, the Victorian Institute of Forensic Science and in Public Health at Department of Human Services every six weeks across a diverse range of specialties. This is their Pre-Intern year in which students undertake a role of increased responsibility compared to previous years, helping to prepare them for internship the following year.
The CCS also awards prizes across a range of medical and surgical disciplines:
Robert Power Prize in Surgery (awarded to a 3/B student from CCS)
Harriet Power Prize in Medicine (awarded to a 5th year student from CCS)
Robert Mohr Humanitarian Award (awarded to a 5th yr MBBS student)
Sir Edward Hughes Surgical Prize (sponsored by RACS Victorian Branch. Awarded to CCS 5th year students)
Contact: Ms Liana Moore liana.moore@monash.edu ph +61 3 99030755
The clinical school at Cabrini is part of the Central Clinical School, Monash University. The Cabrini teaching program is coordinated by the Clinical Dean, Associate Professor Michele Levinson assisted by Mrs Anne Spence, Manager of Education Programs and Mrs Elizabeth Hopkins, Clinical Site Manager.
The Cabrini clinical school delivers the third year undergraduate MBBS program for 18 students, provides final year electives in Medicine and Surgery, four week pediatric rotations for fourth year medical students and participates in the BMedSci program. In addition, two students from Monash Malaysia's Sunway campus had placements. The third year program provides bedside and theatre teaching, workshops and tutorials, the problem-based learning (PBL) program, interprofessional learning, outpatient and ambulatory care experience.
In 2009 there were 18 third year students, 80 fourth year students, 20 fifth year students and two Bachelor of Medical Science students.
All curriculum requirements are provided at Cabrini Health, except for some pathology teaching which is delivered at Alfred Health. During 2009, students were well supported by Ms Judith Mahoney in the library, Mrs Clare Pettigrew from Pastoral Care and the mentoring program by fifth-year MBBS students Sam Farrah and Shannon Price. Melbourne Pathology provides tutorials in investigative medicine and the Victorian Institute of Forensic Medicine has arranged for students to attend autopsies. Students at Cabrini Health participate in the program with third-year nursing students from Australian Catholic and Deakin universities. The program relies heavily on the excellent and generous contribution of Cabrini's clinicians who give of their time voluntarily.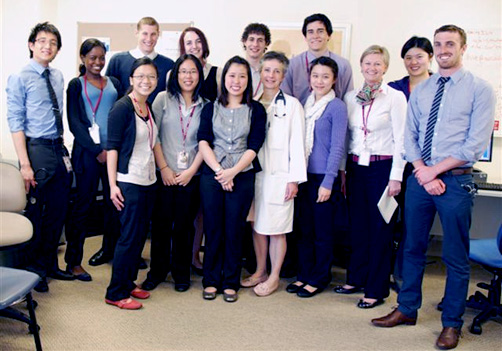 The Cabrini Clinical School recognises their top third year MBBS student for the year by awarding the Senior Medical Staff prize; and the Mike Giles prize in Clinical Ophthalmology is awarded to the Cabrini third year MBBS student who achieves the highest mark by written examination.
In 2009, Mark Tiong won both the Cabrini Health Academic Prize and the Mike Giles Ophthalmology Prize. He has elected to complete a BMedSci in the Cabrini-Monash Department of Medicine under the supervision of Associate Professor Michele Levinson in 2011.

Students at Cabrini Health Clinical School from left to right: Back row Val Ho, Ludo Tema, Jake Barlow, Emma Pappalardo, Julian Segan, Sam Walsh, Denise Gu. Front Row Clara Liew, Grace Tong (Monash University, Sunway Campus, Malaysia), Cheryl Saw (Monash University, Sunway Campus, Malaysia), A/Prof Michele Levinson (Clinical Dean), Soo-Min Cho, Elizabeth Hopkins (Clinical Site Administrator), Cas Woinarski

Director: Professor Catriona McLean BSc, MBBS, FRCPA, MD
The Pathology Board develops, implements, reviews and integrates all pathology curriculum material including haematology, microbiology and tissue pathology for the Monash MBBS. The Board sets up lectures and cases for the pathology courses, and discusses changes with each year's curriculum committee.
Professor Catriona McLean is an anatomical pathologist with her own active research program. With her pathology skills and knowledge, she also collaborates on many research projects. She has a leading role in the formation and ongoing activity of the Pathology Board.
Since 2004 Professor McLean has developed the pathology curriculum and associated support material for all five undergraduate years of the Monash MBBS curriculum. There are approximately 350 students in each year in both Australia and Malaysia, so the total student load is about 1,700. She also teaches, reviews and updates the pathology course using new insights from her own and others' research programs.
The bulk of teaching is in Year 3, where students undertake a case based on-line course. Professor McLean has developed further support material for the case-based pathology teaching modules including pod casting and e-path (an electronic teaching tool). Case based studies use formative based learning, where students are given immediate feedback on their work. Additionally, Professor McLean lectures in 1st and 2nd year, runs weekly tutorials in 3rd year and oversees the 5th year pathology module.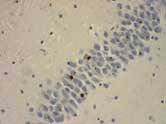 The hippocampus in frontotemporal dementia showing perinuclear intracytoplasmic inclusions
In 2009, Professor McLean won a national citation award for outstanding contribution to student learning from the Australian Learning and Teaching Council, for her development of on-line curriculum resources engaging a dispersed medical student population in a clinically integrated and authentic study of Pathology. She also received an honourable mention from the Monash Medical Students' Society in recognition of her teaching.
Professor McLean's professional activities include:
Director of Anatomical Pathology at The Alfred hospital
Coordinator of the State Neuropathology Service
Director of the Australian Brain Bank Network
Consultant Pathologist for the Australian Phenomics Network and for the Creutzfeldt-Jakob Disease (CJD) registry
Head of the Anatomical Experimental Pathology Laboratory in AMREP, Dept of Medicine
The Monash University Academic Board of Anaesthesia and Perioperative Medicine spans the clinical schools of the affiliated hospitals, providing undergraduate teaching, research, postgraduate training, and educational symposia.
Monash University Department of Anaesthesia (a cross-campus entity including academic anaesthetists at all Monash teaching hospitals) is involved with undergraduate and postgraduate education and research covering all aspects of anaesthetic care. Research and teaching occur at undergraduate and postgraduate level in fields such as molecular pharmacology, traditional pharmacology and physiology, clinical neurophysiology, clinical research in acute and chronic pain states and epidemiology.
Chair
Professor Paul Myles, MB.BS, MPH, MD, FCARCSI, FANZCA, FRCA
Professor/Director, Department of Anaesthesia and Perioperative Medicine, Alfred Hospital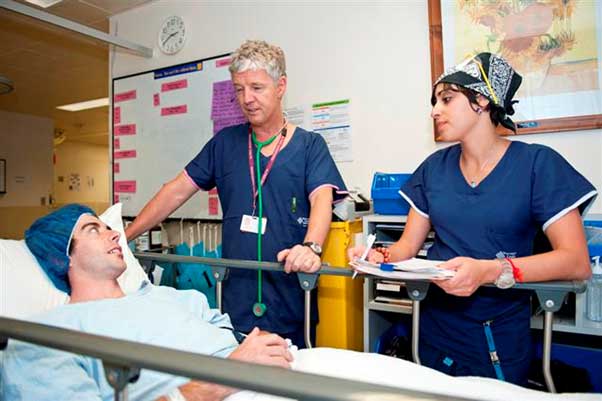 Professor Paul Myles with nurse Heidi Harrosh explaining the pre-operative procedure to a patient. Image ID 24_292010