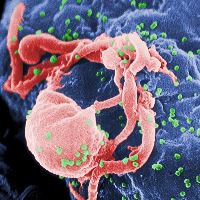 Image: C. Goldsmith
2014 Public Lecture
Challenges of living well with HIV: Where to from here?

Tweet
Central Clinical School is holding its annual public lecture for 2014 on 10 July, on a viral infection that has changed our world, the Human immunodeficiency virus infection (HIV).
Professor Jennifer Hoy has 30 years' experience in HIV clinical research and patient care, particularly on the effect of HIV and its treatment with antiretroviral therapy on different body systems which contribute to the increased likelihood of chronic illness such as cardiovascular disease and osteoporosis. She will describe the transformation in the lives of people with HIV, how her current research is changing the way doctors help people with HIV, and outline the challenges ahead.
Details
Date: Thursday, 10 July 2014
Time: 6.00 pm for 6.30 pm start. Lecture for 45 minutes followed by Q&A session.
Venue: AMREP Lecture Theatre, adjacent to the BakerIDI Institute at 85 Commercial Road, Melbourne 3004, 200 metres east of the main Alfred Hospital entrance. See map.
Cost: Free
RSVP: CLICK HERE. Please RSVP by Friday 4 July for catering purposes
Enquiries: Julia.Veitch@monash.edu ph +61 3 9903 0026; Jasminka.Sterjovski@monash.edu ph +61 3 9076 8589
Flier (357kb, pdf)
About our speaker
Professor Jennifer Hoy is a Infectious Diseases physician who has long-standing, active clinical and research interests in HIV/AIDS. She is the inaugural Professor-Director of HIV Medicine at the Alfred Hospital and the Department of Infectious Diseases in the Central Clinical School, and also Director of the Victorian HIV Service, Department of Infectious Disease, Alfred Health. Professor Hoy has made significant contributions to the HIV research effort nationally and internationally. She has been Principal Investigator for over 140 clinical studies at the Alfred Hospital and she has collaborated widely on investigator-initiated pathogenesis studies. Her main research interest is in the evaluation of the causes of co-morbidity and mortality in HIV and the effects of Antiretroviral Therapy.
About HIV co-morbidity

The comorbidities associated with chronic HIV infection are often associated with chronic immune activation and inflammation, These include cardiovascular disease (heart attacks and strokes), chronic kidney disease, osteoporosis and fractures, and chronic liver disease. These are also diseases of ageing and seem to occur at a greater frequency in the older population of people living with HIV. More osteoporosis and fractures have been reported in people with HIV compared with the general population of similar age. Both HIV-infection and antiretroviral treatment (ART) for HIV contribute to bone loss, along with traditional risk factors. The relative contributions of HIV and ART are unknown.
Cardiovascular disease has now become one of the major causes of morbidity and mortality in people living with HIV, who have a 2-fold increased risk when compared with the general population. This elevated risk is likely due to a complex interplay between the increased incidence of traditional cardiac risk factors, the effects of antiretroviral medications and the pro-inflammatory actions of HIV itself.
Links
For more about Professor Hoy's research, see www.med.monash.edu.au/cecs/infectious-diseases/research/groups/hoy-group.html.