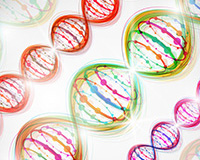 About Introduction to Nutritional Genomics
Have you been asked by a patient about genetic testing and what foods they should eat or avoid because of their genes? What was your response? If you were not sure then why not register for our online short course at Monash University. This emerging and exciting science can be confusing for dietitians and their patients, but our short course will provide in introduction and give you the information you need!
An online short course covering a range of topics in the exciting and cutting edge science of nutritional genomics and how it relates to dietetic and nutrition practice, offered by Monash University. This course will provide an understanding of the science of nutritional genomics, with up to date evidence and why as dietitians we need to know and understand the applications of nutritional genomics to our practice. This course will provide participants with an understanding of nutritional genomics, along with critical thinking skills to apply this science to a range of areas relating to nutrition and dietetics.
The course will consist of 5 topics presented over 5 weeks. It is expected that each topic will take approximately 4-6 hours to complete, with additional time allowed to complete course work. Participants can log on at any time during the specified week to complete learning activities. The course will cover the following topics:
Week 1: Basic science of genetics - A refresher on the basics and new terminology in the field of nutritional genomics.
Week 2: Science of nutritional genomics - What is the difference between nutrigenetics, nutrigenomics and epigenetics?
Week 3: Nutritional Genomics in Dietetic and Nutrition practice - How is genetics changing how we personalise nutrition recommendations, critiquing the evidence, genetics and the dietetic consult, considerations for discussing genetics with patients, and ethical, legal and social considerations.
Week 4: Personalised nutrition - what is the evidence base for genetics and common conditions such as obesity and chronic diseases? What can we learn from genetics and what is considered evidence based practice?
Week 5: Personalised nutrition - what is the evidence base for genetics and nutrition needs such as vitamin D? What can we learn from genetics and use in practice and what is considered evidenced based practice?
Learning materials have been developed by leading researchers and healthcare professionals in the field of nutritional genomics and genetics, with a focus on application to nutrition and dietetic practice.
Find out more
Find out more about start dates and course fees
Register now (via Monash University's secure online Shop site) for: