Inaugural NCD Forum
In May 2015, the ASCEND Research Network together with the Sri Lankan National Institute of Health Sciences (NIHS) and the World Diabetes Foundation held an inaugural regional forum focusing on evidence implementation for the prevention and control of NCDs in the South Asian region.
Held in Sri Lanka at NIHS offices, the forum was officially opened by the Sri Lankan Minister for Health and Indigenous Medicine, the Hon. Dr Rajitha Senarathe.
The program attracted approximately 100 people over each of the three program days, and a small group spent an additional two days touring local community health programs, gaining an insight into the Sri Lankan health system.
Researchers, policy makers, health professionals and other experts from within Sri Lanka, India, Thaliand, Indonesia, Malaysia, China, Australia, UK and the US convened to discuss how to reach key targets as set by the World Health Assembly's Global Action Plan for the Prevention and Control of NCDs.
30 ASCEND trainees presented research posters during the program, and trainee Praveen Pradeep presented on his recent experience representing ASCEND with Prof Oldenburg at the US-NIH Fogarty Conference on Global Health.
Photos from the program can be viewed here. The program was also reported on by local media, the NCD Asia Pacific Alliance and by attendees on twitter #NCDForum2015.
Click here to see the full program hanbook, including a list of speakers, program topics and ASCEND trainee poster abstracts.
Forum and Writing Retreat held in Colombo, Sri Lanka
On the 20th - 23rd July, ASCEND held its Annual Forum and Writing Workshop in Colombo, Sri Lanka.
This was the fourth face-to-face gathering of ASCEND trainees, program directors and faculty since 2010, and was a fantastic meeting with a focus on Knowledge Translation and manuscript publication.
ASCEND 2014 Forum
The ASCEND Forum was a one day program attended by ASCEND faculty, trainees, public health researchers, policy makers, clinicians and students.
Several engaging presentations were given, focusing on the theme Knowledge translation: how to implement what we already know about how to improve the control of NCDs in South Asia.
Click here to read the Forum Report.
Writing Workshop
Continuing the theme of Knowledge Translation, the aim of the second annual Writing Workshop (following from the success of the inaugural program in Trivandrum, India in 2013) was to encourage research manuscript writing and publication. The workshop was facilitated by Prof Wah Yun Low, who is Editor-in-Chief of the Asia Pacific Journal of Public Health. Read more about the 3 day workshop here.
Visit to WHO Country Office, Sri Lanka
The four day program concluded with a meeting at the WHO Sri Lanka Country Office, where Country Representative Dr Firdosi Mehta and programme staff provided an insight into the wonderful work undertaken by the office. In her report, trainee Sairu Philip comments on the inspiring experience of meeting with Dr Firdosi Mehta and staff.
Upcoming ASCEND Global Health Webinar - register now!
All are welcome to attend the third online webinar of our ASCEND Global Health Webinar Series, to be held on 13 June 2014.
Prof Ajay Mahal, Finkel Chair of Global Health and Adjunct Professor of Economics at Monash University, will be presenting on the topic "Disentangling the links between NCDs and economic prosperity"
Date: Friday 13 June 2014
Time: 4.00pm Australian Eastern Standard Time/11.30am Sri Lanka and India/2.00pm Malaysia and China
Registrations: All are welcome and there is no cost to attend this webinar, but places are limited. Please register your attendance via this link https://student.gototraining.com/r/1085850554009943808
For more information, please see the Webinar Flyer
ASCEND Global Webinar Series
The ASCEND Global Webinar series is a free series of public online presentations which is running throughout 2014.
So far, two engaging presentations have been given by Professor Rob Moodie from the University of Melbourne, Australia and Prof KR Thankappan of Sree Chitra Tirunal Institute of Medical Sciences and Technology, India.
Prof Moodie spoke on the topic of "Profits and Pandemics" and Prof Thankappan on the "Prevention and control of cardiovascular disease and it's related conditions: lessons learnt from population-based approaches".
To receive updates about the upcoming webinars, please email us at iphu-ascend@monash.edu.
Inaugural ASCEND Excellence Awards
The Inaugural ASCEND Excellence Awards Ceremony, held on 17 December 2013, celebrated the outstanding achievements of all Cohort 1 ASCEND trainees since their commencement of the ASCEND program in 2011.
Prizes were awarded in three categories:
Most important paper
Best example of impacting policy and practice
Greatest career progress over the last two years as viewed by peers, colleagues or seniors.
The calibre of nominations was extremely high for each of the three award categories. The winners of each category were:
Most important publication - Aswathy Sreedevi (India), for her paper:
Sreedevi A, Ambika GU, Kalra S, Kamalamma L. Peer support as a strategy for effective management of diabetes in India. Indian Journal of Endocrinology Metabolism 2013; 17: 5-7.
Best examples of impacting policy and practice - Pubudu De Silva,(Sri Lanka)
Pubudu has published a number of fact sheets as well as developing of a plan for assessing public health training needs in Sri Lanka.
Greatest career progress over the last two years, as viewed by peers, colleagues or seniors - Amutha Ramadas(Malaysia) and Sathish Thirunavukkarasu (India)
Amutha completed her PhD in 2012. She is currently a lecturer in Public Health within the Clinical School of the Jeffrey Cheah School of Medicine and Health Sciences at Monash University Malaysia, and is also a member of the school Research Committee. Amutha is supervising 12 students in small research projects and recently received a grant from the Ministry of Education, Malaysia for MYR110,000. In 2012, Amutha won the Malaysian National Diabetes Institute Young Investigator Award.
Sathish was awarded the Victorian India Doctoral Scholarship in 2012 and commenced his PhD at Monash University Australia soon after. He has published six papers in peer-reviewed international journals since 2011 and is currently an Associate Investigator in a large multi-site trial looking at hypertension in India, which is funded by the Global Alliance of Chronic Diseases initiative of the Australian National Health and Medical Research Council. Sathish is also the Indian country representative for the South Asian Chapter of the Early Career Network of the Asia-Pacific Academic Consortium for Public Health (APACPH)
Congratulations to all the trainees for their excellent achievements!
3rd ASCEND Teaching Block and Writing Retreat held in India - July/August 2013
In July/August this year, 31 trainees from cohorts 1 and 2 gathered in Trivandrum, Kerala, India, for the third ASCEND Teaching Block and inaugural Writing Retreat. The program was hosted by Dr K.R. Thankappan, ASCEND Program Director and Head of the Achutha Menon Centre for Health Sciences, Sree Chitra Tirunal Institute for Medical Sciences and Technology, Trivandrum.
During the Teaching Block, 24 trainees from cohort 1 participated in forums, workshops and lectures on topics such as translation of research into policy and practice, program evaluation, grant writing, communication skills, writing a policy brief, knowledge translation and working with the media. To conclude their program, they then joined seven cohort 1 trainees for the 2nd ASCEND mini-conference. Trainees presented in groups and a "3 minute thesis" competition was held - congratulations to Ashwini De Abrew for winning first prize!
The inagural ASCEND Writing Retreat was then held over four days. The aim of the retreat was to assist trainees with refining their manuscripts for publication. The retreat was facilitated by Prof Wah Yun Low from University of Malaya, who is Editor-in-Chief of the Asia Pacific Journal of Public Health. This provided a unique opportunity for trainees to receive direct feedback about their manuscripts from the editor of a journal.
The successful program was widely reported in local newspapers: http://newindianexpress.com/cities/thiruvananthapuram/Call-for-more-research-on-non-communicable-diseases/2013/07/30/article1709225.ece
http://www.thehindubusinessline.com/news/states/kerala-launches-drive-against-noncommunicable-diseases/article4970410.ece
http://www.thehindu.com/todays-paper/tp-national/tp-kerala/gender-issues-at-heart-of-many-public-health-problems/article5034337.ece
http://newindianexpress.com/cities/thiruvananthapuram/Obese-friends-will-make-you-put-on-weight/2013/07/30/article1709245.ece
For photo's from the program, please see the photo gallery.
'Graduation' from the inaugural ASCEND Program
After completing 18 months of training in the ASCEND Program, the first trainees have now officially 'graduated' from the ASCEND program. To mark this occasion, ceremonies have recently taken place in India, Malaysia and Sri Lanka, where trainees were able to

officially celebrate their achievements, and time in the program.
Although the formal program has concluded for these trainees, they will stay very much involved with the program, the current trainees, and the international ASCEND research network.
We look forward to sharing the trainees' ongoing research collaborations and achievements post-program, as they further develop and utilise their research skills.
Trainees attend the 44th APACPH Conference
ASCEND had a strong presence at the recent Asia Pacific Academic Consortium for Public Health (APACPH) Conference held in October in Colombo, Sri Lanka, with over 15 trainees supported to attend. Several trainees presented posters or abstracts related to their research, the details of which can be found on the trainee achievements page.
Cohort 2 trainee Thanya Pathirana presented two posters titled "The quality of life of caregivers and impact on the nuclear family of children with leukemia" and "Association between diabetes mellitus and recent onset deafness".
Of the conference, Thanya says "It was the first time I got a chance to attend an international conference of this magnitude, and it was a great experience to me. I had an opportunity to further discuss about my ASCEND research study and I also gained a lot by attending the poster and oral presentation sessions sessions and those on NCD, environmental and occupational health".
ASCEND Program, Colombo, Sri Lanka, June 18th - 11th July 2012
June 18th marked the official opening of the second ASCEND Program in Colombo, Sri Lanka. The second cohort of 26 trainees from India, Sri Lanka, Malaysia and Hong Kong have now commenced their 18 month ASCEND journey. In Colombo, over a three week period trainees had the opportunity to work on their research proposals with other trainees and input from the international ASCEND faculty. In addition, trainees gained skills in understanding the burden of non-communicable disease and risk factors, epidemiology, statistics, online research tools, health promotion and prevention strategies. The trainees were able to contribute to the sessions with their broad range of experiences adding value to the experiences and knowledge of the faculty from Australia, Sri Lanka, India, the United Kingdom and Malaysia.
The trainees then returned back to their own countries and institutes where they are now undertaking a 12 month 'real world' research project supported by an international mentor from the ASCEND faculty and fortnightly online training sessions.
This cohort of trainees were also joined in Colombo by the first cohort of trainees that commenced their program in June 2011. 12 months into the program they have made fantastic progress with their research projects and in their own careers. See the trainees achievements page for more details. We also hosted for the first time an ASCEND 'mini-conference' which gave all the trainees (over 40) an opportunity to present on their research . The trainees are undertaking wide variety of research Meet the ASCEND Trainees for further details of their projects. For many, this was their first time they had given a research presentation and for one trainee from Hong Kong it was the first time they had presented in English!
Five ASCEND Trainees provided by small research grants by Global Peers for Progress
Global Peers for Progress has generously provided financial support for five ASCEND trainees: Priyanwada Amarasekara, Uma Sankar, Elezebeth Mathews, Winnie Wong and Aswathy Sreedevi. Each of their research projects will be investigating different aspects of peer support in relation to the prevention and management of NCDs in their own country.

ASCEND Research Network launched, 13th June 2011, Monash University Sunway, Malaysia

The ASCEND Research Network was launched at Monash University Sunway Campus by Dr Lokman Hakim Solaiman, Deputy Director General of Health, Malaysia on Monday 13th June 2011.

The program was launched with the first cohort of 25 trainees from Sri Lanka, India, Malaysia and China coming to Monash University Sunway Campus to take part in an intensive 3-week teaching block.

As part of the program launch there were video clips from Yvonne Njage, project officer, and Dr Roger Glass, the Director of the Fogarty Centre of International Health, Prof Steve Wesselingh, Dean of the Faculty of Medicine, Nursing and Health Sciences, Monash University, the technical officer for the WHO West Pacific Regional Office, Dr Cherian Varghese and Dr Garg from the South-East Asia Regional WHO Office.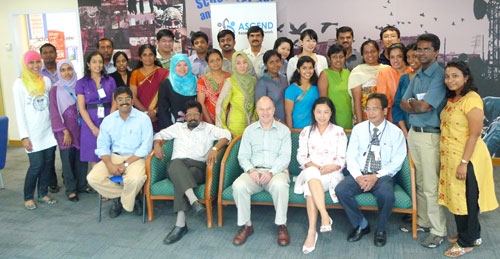 The ASCEND Trainees with some of the teaching faculty from Malaysia, India and Australia