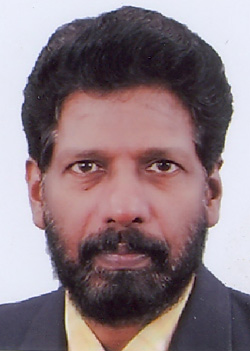 Professor K R Thankappan
Professor and Head, Achutha Menon Centre
Sree Chitra Triunal Institute for Medical Sciences and Technology, India
K R Thankappan is currently working as the professor and head of the Achutha Menon Centre for Health Sciences Studies, the health sciences wing of the Sree Chitra Tirunal Institute for Medical Sciences and Technology, Trivandrum in South India that hosts India's first Master of Public Health program. Before joining this academic institution after his training at the Harvard School of Public Health in the United States in 1997, he was working with the Government health system of the Indian State of Kerala in various capacities such as primary health care doctor, superintendent of a major hospital and an Epidemiologist for a regional health and family welfare training Centre for a period of over 15 years. He was a consultant to various international organizations including the World Health organization, European Commission and UNICEF and has experience in working in several countries of the South East Asia Region of the WHO including DPR Korea, Nepal, Thailand, Bangladesh and Myanmar.

His research interests are mostly in chronic non-communicable diseases and their risk factors particularly tobacco. He has more than 125 publications and has been a reviewer for reputed journals such as the Lancet and the Bulletin of the World Health Organization. He is a member of the advisory group of several reputed Institutions in India such as the National Institute of Nutrition Hyderabad, Tata Institute of Social Sciences Mumbai and the Indian Council of Medical Research, New Delhi.